Dandelions are ancient history and new treats are popping up the garden. Here's one of my favourites…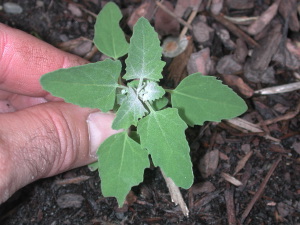 Lamb's quarters are especially tasty fried up with onions on a bed of rice, in my humble opinion, of course.
If you like charts, here is a link to a bunch of nutritional ones…
http://skipthepie.org/vegetables-and-vegetable-products/lambsquarters-raw/compared-to/spinach-raw/
There are oodles of great reports on how to collect, store and prepare this free veggie on the internet. I have even pickled the seeds which are delicious in mid winter.
Please take ample time to correctly identify your wild treats. If in doubt, leave it out!!
Happy foraging. What are your plans for the big grocery bill savings? I'm planning my next excursion to Haiti on mine!
Tim